Apple says the iPhone 7 and the iPhone 7 Plus, announced on September 7, 2016, are the best iPhones the company has ever created. On the surface, the two devices don't look significantly different from the iPhone 6s and iPhone 6s Plus, continuing to feature the same 4.7 and 5.5-inch screen sizes and the same dimensions, but there are a few visual differences.
Redesigned antenna bands no longer span across the back of the devices, for a cleaner, sleeker look, and there are two new colors being sold alongside the standard Silver, Gold, and Rose Gold shades: a matte color Apple is just calling "Black" and a new "Jet Black" with a high-gloss finish. Most importantly, the body of the iPhones has been reengineered to be IP67 dust and water resistant, so it will hold up to splashes and brief submersion in water.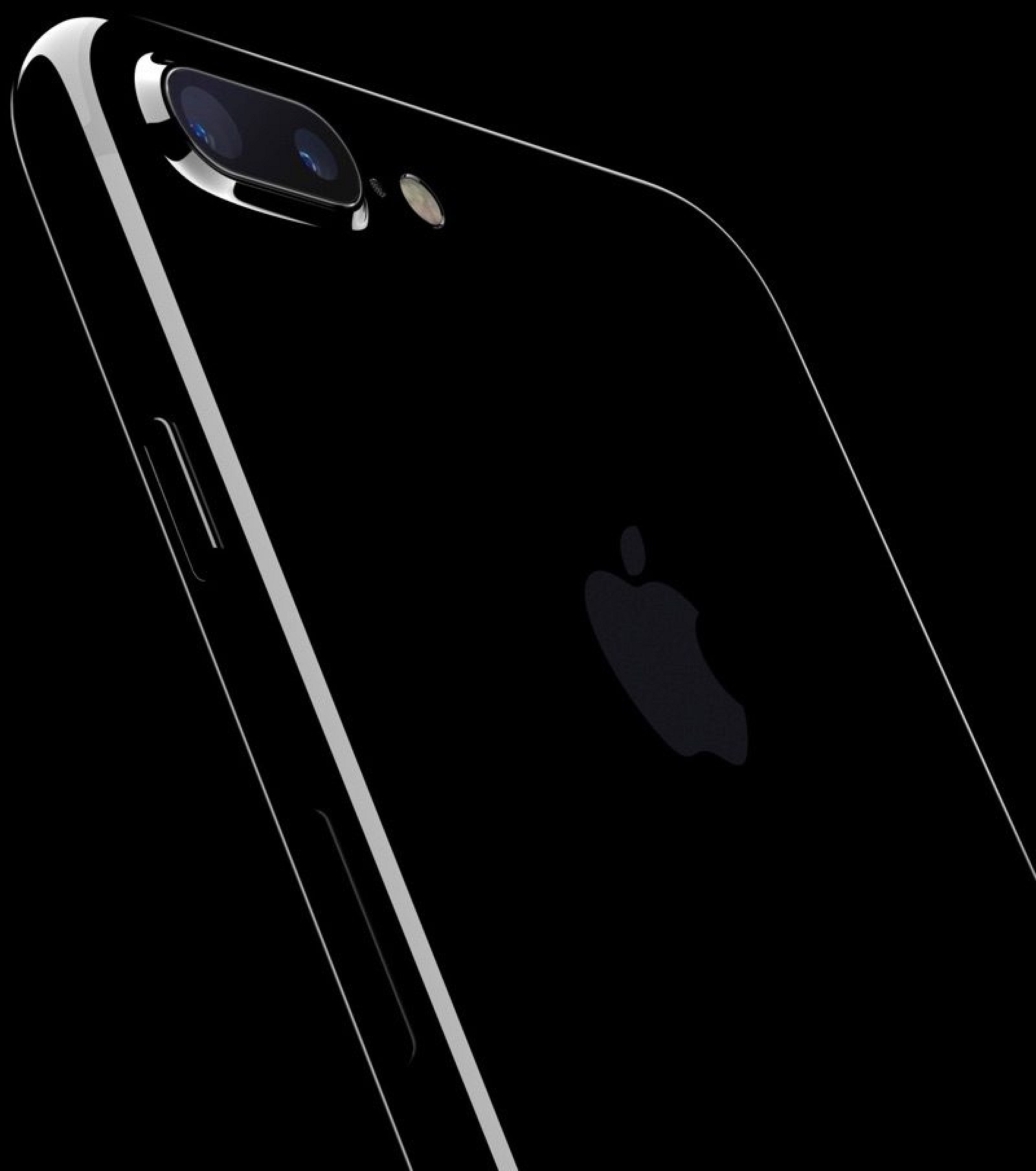 There is no physical Home button on the iPhone 7, as it has been replaced by a "solid-state" pressure sensitive button that's connected to a redesigned Taptic Engine to deliver haptic feedback mimicking traditional button presses. A new display is 25 percent brighter and supports wide color gamut for richer, true-to-life colors.
Inside, the iPhone 7 and iPhone 7 Plus use an A10 Fusion processor, which is 40 percent faster than the processor in the iPhone 6s. It features two high-performance cores for system intensive tasks and two high-efficiency cores that operate at 1/5 the power to save battery life for smaller tasks.
With the processor improvements, the two devices have the best battery life ever offered in an iPhone. Those upgrading from iPhone 6s will see two additional hours of battery life on average, while those upgrading from iPhone 6s Plus will see an additional hour.
There is no headphone jack in the iPhone 7, so headphones that connect to it need to be Bluetooth or equipped with a Lightning connector. Apple is shipping the iPhone with Lightning EarPods and a 3.5mm to Lightning adapter, plus it has designed new completely wireless high-tech AirPods to ease the transition.

Stereo speakers, located at the top and bottom of the iPhone, are a new addition, and the biggest feature improvement comes in the form of an overhauled camera system. The iPhone 7 features a 28mm 12-megapixel camera with optical image stabilization, a wider f/1.8 aperture 6-element lens, wide color capture, and a new Apple image signaling processor, all of which result in brighter, sharper, more detailed photos, even in low-light conditions.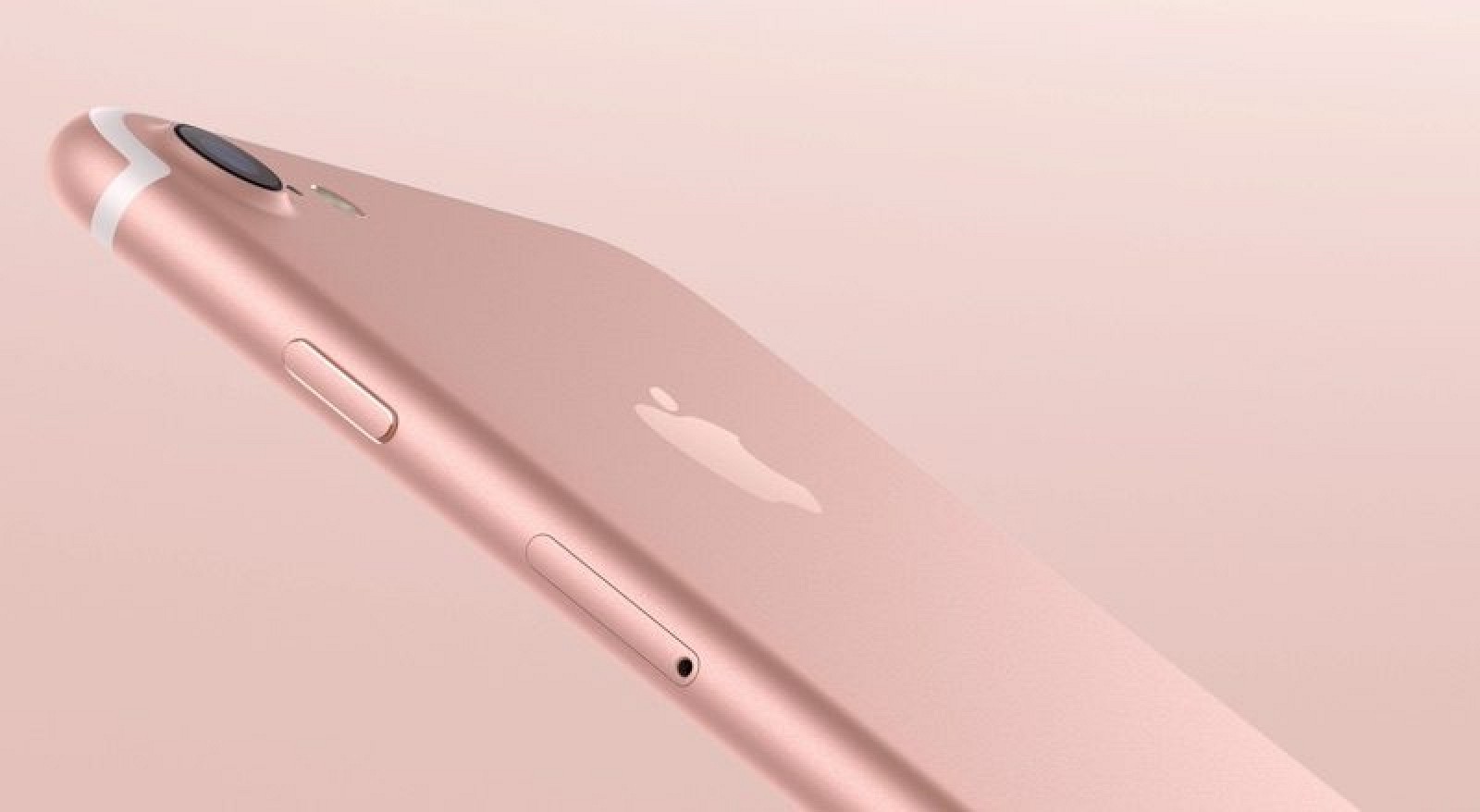 The iPhone 7 Plus features all of the camera improvements in the iPhone 7, but in addition to a 28mm wide-angle lens, it has a second 56mm telephoto lens for dual-camera functionality that enables better optical zoom. In a future update, it will also support a new shallow-depth-of-field portrait mode that uses the two lenses to draw out the portrait subject while blurring the background.
Both iPhones have a new four-LED flash that's 50% brighter and stronger, plus an upgraded 7-megapixel FaceTime HD camera with new sensor technology and auto image stabilization for better selfies and clearer FaceTime calls.
Subscribe to the MacRumors YouTube channel for more videos.
Storage in the iPhone 7 and iPhone 7 Plus has been bumped up. The new minimum is 32GB, with 128GB and 256GB of storage also available. Pricing on the iPhone 7 starts at $649 and pricing on the iPhone 7 Plus starts at $769.
How to Buy
The iPhone 7 and 7 Plus became available for purchase both online and in Apple retail stores on Friday, September 16, 2016, the official launch date. At launch, supplies of the iPhone 7 Plus and the Jet Black iPhone 7 were entirely sold out, with all stock having gone to pre-order customers.
The iPhone 7 and iPhone 7 Plus come in 32, 128, and 256GB configurations, with five color options: Silver, Gold, Rose Gold, Black, and Jet Black, the new glossy shade. Jet Black is only available in 128 and 258GB.
In the United States, iPhone 7 pricing starts at $649 for the 32GB model. The 128 and 256GB models are priced at $749 and $849, respectively.
iPhone 7 Plus starts at $769 for the 32GB model. The 128GB and 256GB models are priced at $869 and $969, respectively.
Upgrade Program
With the iPhone Upgrade Program, which allows users to get a new iPhone each year with AppleCare+ support, iPhone 7 pricing starts at $32.41 per month and iPhone 7 Plus pricing starts at $37.41 per month.
Issues
Hissing
Shortly after the iPhone 7 and iPhone 7 Plus started arriving to customers, some users began noticing a "hissing" or "crackling" sound coming from the back of the device near where the Apple logo is located.
On affected devices, the hissing can be heard when the iPhone is under a heavy processing load.
It appears to be a widespread problem and it is not clear if it's something that affects all phones or the result of a faulty batch. On affected devices, the sound is often so faint that it cannot be heard unless the back of the phone is right at your ear. iPhone 7 and iPhone 7 Plus models appear to be affected.
Apple is replacing some of the iPhones with the issue when requested to do so, but one Redditor who had his device replaced said that his replacement device suffered from the same issue, suggesting it could affect most iPhones.
Many believe the noise is "coil noise," the sound a high powered processor makes when it is under heavy load or not properly dampened. It can affect a wide range of devices and has been found in other phones.
It's important to note that this is not a loud sound - it's not something that's audible during day to day use and may not affect most customers who have only a quiet hiss that's difficult to hear.
Lightning EarPods
There's a problem with the remote portion of the Lightning EarPods that causes it to timeout and stop functioning after a short period of time on iOS 10. Users are unable to adjust the volume on their iPhones, activate Siri, or make phone calls. Apple is working on a fix.
Cellular Service Issues
Some iPhone 7 and iPhone 7 Plus models are affected by a bug that causes a loss of cellular service after turning off Airplane Mode and then turning it back on. Apple is investigating the issue.
Reviews
Ahead of the launch of the iPhone 7 and 7 Plus, many media sites were given a chance to go hands-on with the new devices. In general, reviewers thought the devices were "terrific" and offered a great foundation for the future, but most didn't think they were an essential upgrade.
The Verge, for example, says non-adopters "won't actually be missing out on much," while Mashable's review was a bit more favorable, calling the iPhone 7 a "worthwhile upgrade" and highlighting the ultra fast processors, the battery life, and the stereo speakers. According to Mashable, the water resistance is "pretty awesome" and held up well.
TechCrunch wasn't a fan of the new Taptic Engine, and said it makes it feel like the entire bottom half of the phone is clicking, but the site praised the cameras, calling them the "best portable cameras ever made." TechCrunch also saw significant scratching on the Jet Black model, even after just a week of use.
MacRumors also went hands-on with the iPhone 7 Plus and shared some of our first impressions of the device. We're fans of the impressive camera and the new Home button.
For an extensive list of iPhone 7 reviews, make sure to check out our full iPhone 7 review roundup.
Design
On the outside, the iPhone 7 and the iPhone 7 Plus look a lot like the iPhone 6s and the iPhone 6s Plus. The dimensions, aside from weight, are identical. The iPhone 7 measures in at 138.3mm tall, 67.1mm wide, and 7.1mm thick, while the iPhone 7 Plus is 158.2mm tall, 77.9mm wide, and 7.3mm thick.
At 138 grams and 188 grams for the iPhone 7 and iPhone 7 Plus, respectively, the two devices are slightly lighter than previous-generation iPhones.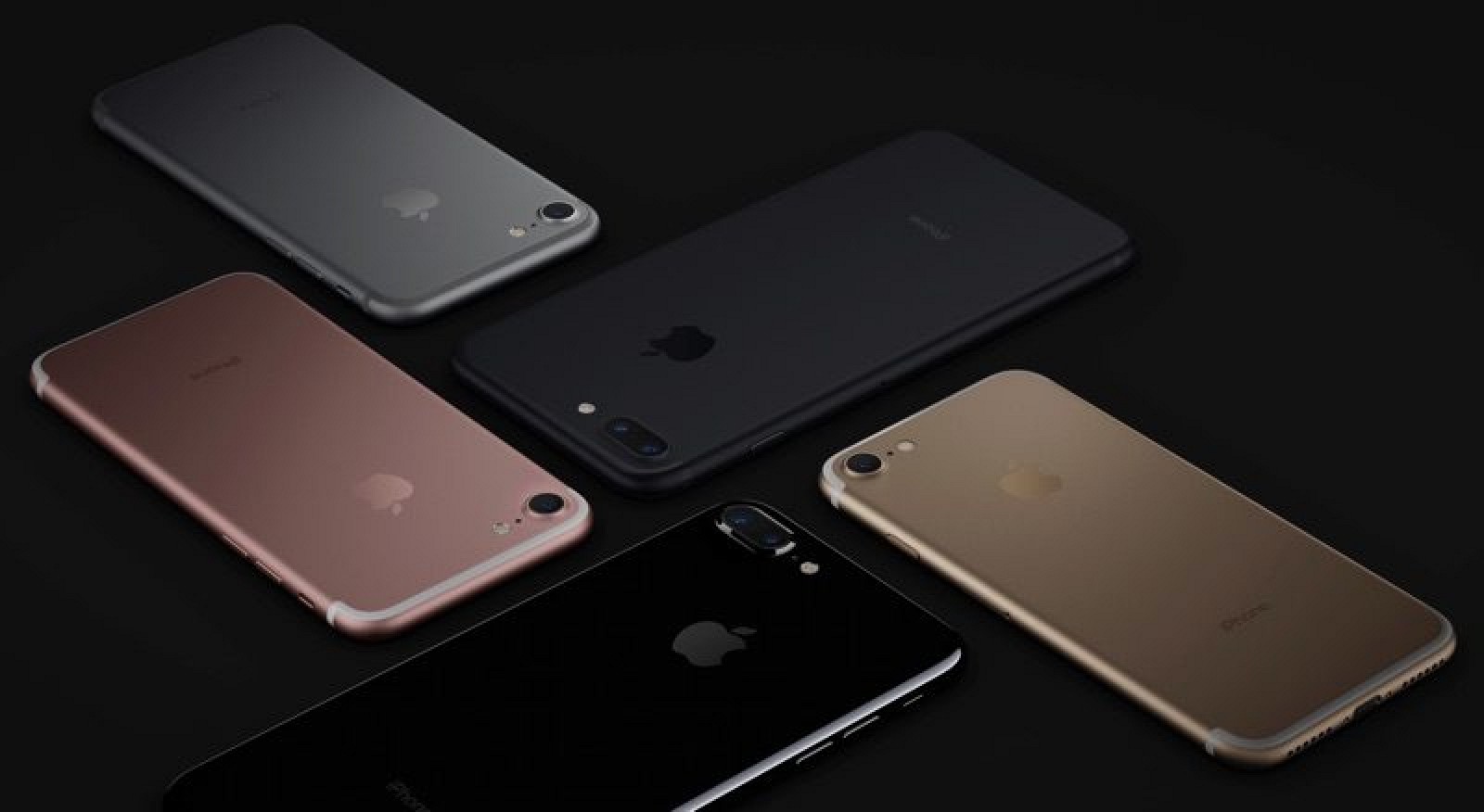 Design wise, there are few visual differences between the iPhone 7 and the iPhone 6s, aside from relocated antenna bands that no longer span across the back of the iPhone and larger protruding cameras, which is especially noticeable on the larger iPhone 7 Plus that has a dual-camera setup.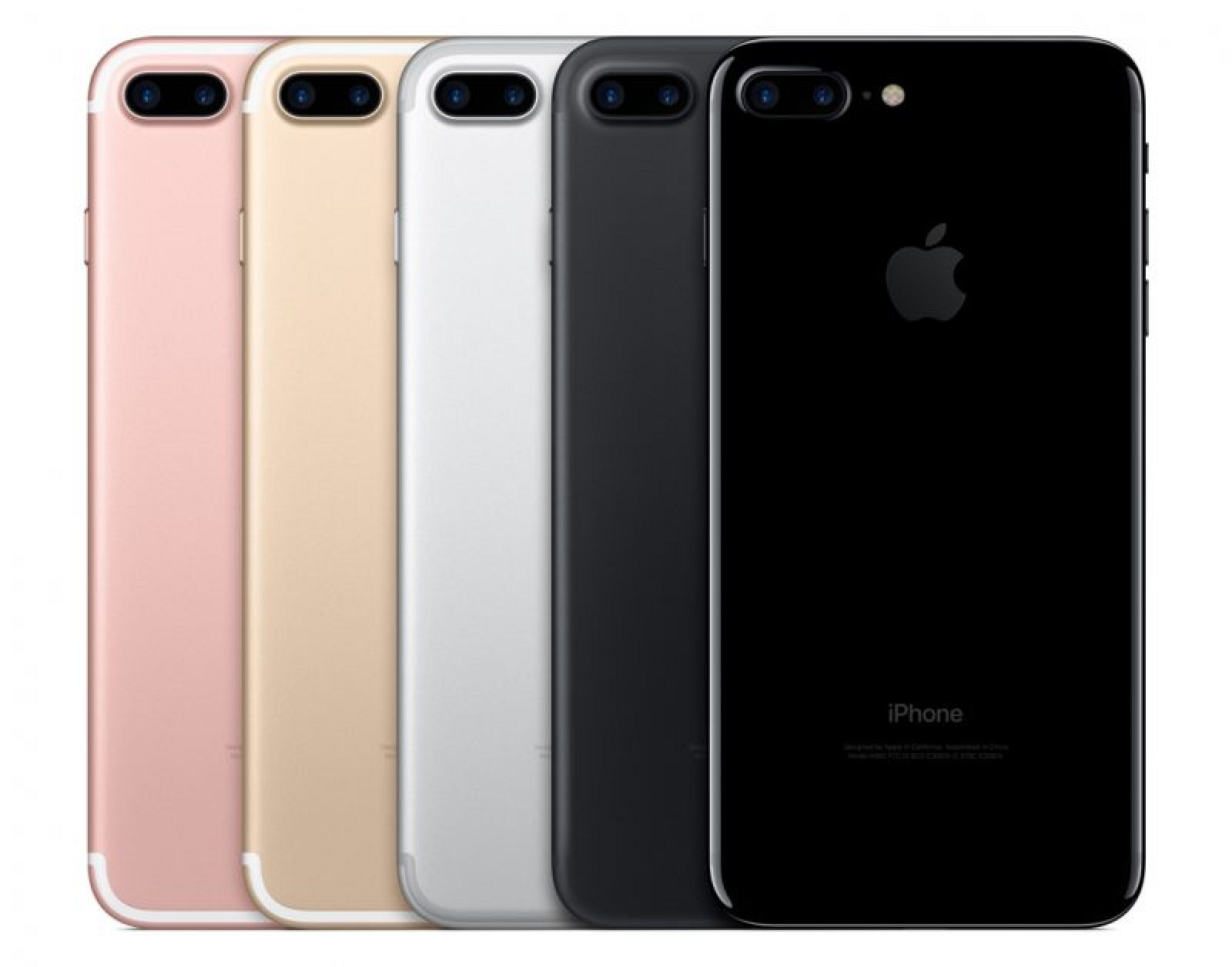 On the bottom of the iPhone 7, there's no longer a headphone jack. The space has been replaced by a second set of speaker holes, which are largely cosmetic. The first hole on the left side of the device is a microphone, while the rest are designed to match the right side of the phone.
Black and Jet Black Color Options
To distinguish the iPhone 7 from the iPhone 6s, Apple has focused on introducing two new colors sold alongside the traditional Gold, Rose Gold, and Silver finishes. There's a dark matte light-diffusing "Black" shade that replaces Space Gray and a glossy "Jet Black" that's entirely new, with a pristine, mirror-like surface.
The high-shine Jet Black color is achieved through a unique dye bath and anodization process, and while its finish is eye-catching, Apple warns that it is prone to "micro-abrasions" and recommends those who are worried about scratches keep it in a case.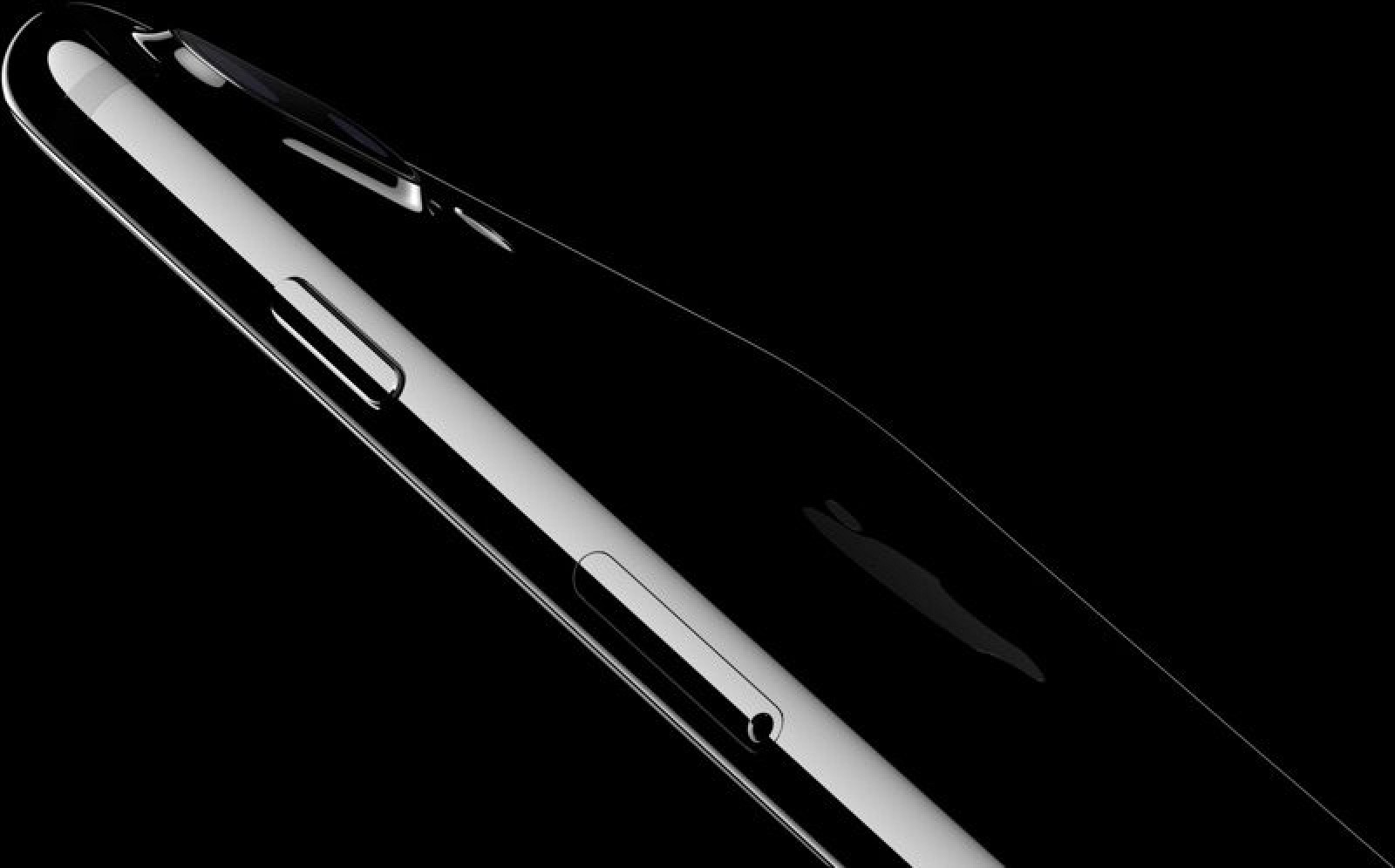 Water Resistance
The iPhone 7 might look a lot like the iPhone 6s, but it's been re-engineered from the inside out with new seals and new adhesive techniques to make it more water and dust resistant. It has a dust/water resistance rating of IP67, meaning it's entirely dust proof and able to withstand 1 meter of water for up to 30 minutes. It's safe from splashes and accidental submersion, but don't take it swimming.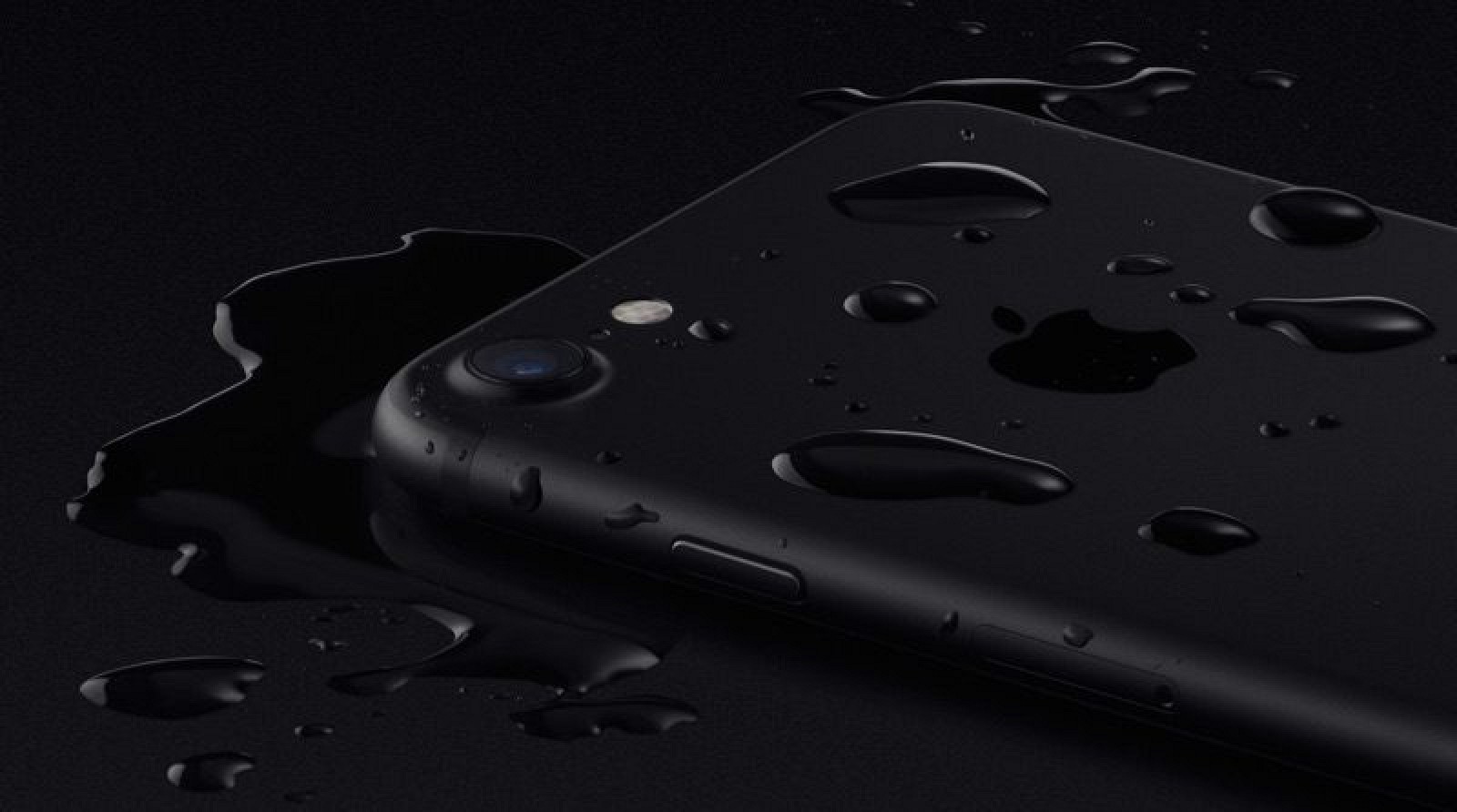 Tests have proven that the iPhone 7 can survive immersion in a variety of liquids, from coke and hot coffee to sea water. There's even been a test to see how well it does in deep water.
Display
Apple is using a new display in the iPhone 7 that's 25 percent brighter than the display in the iPhone 6s, so it's going to look brighter and clearer outdoors, especially in full sunlight. The display is also using a cinema-standard wide color gamut and end-to-end color management, for more vivid, saturated colors.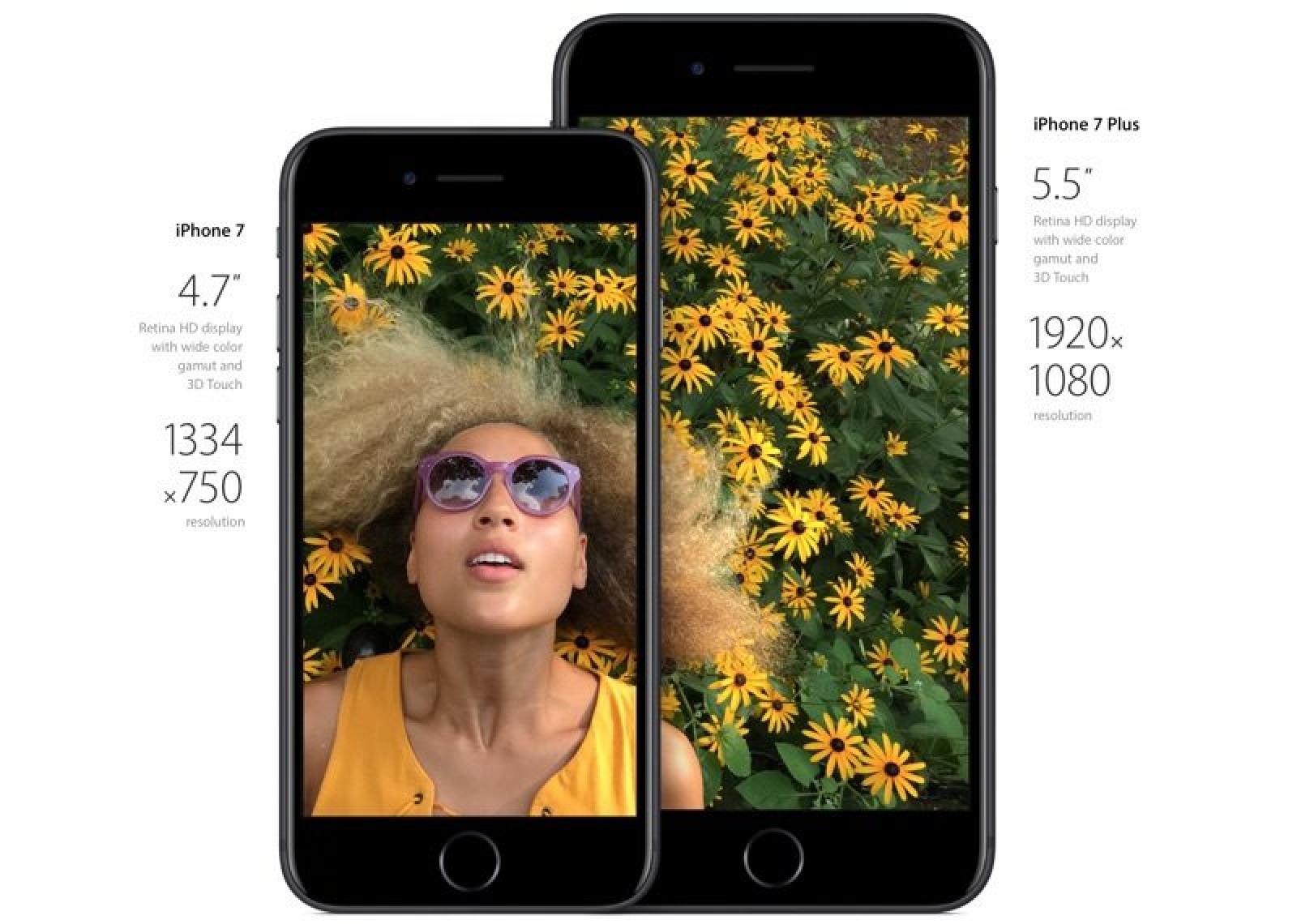 The resolution of the display is the same, at 1134 x 750 (326 ppi) for the iPhone 7 and 1920 x 1080 (401 ppi) for the iPhone 7 Plus, and the screen sizes continue to measure in at 4.7 inches for the iPhone 7 and 5.5 inches for the iPhone 7 Plus.
DisplayMate says the iPhone 7 has the "best LCD display" it's ever tested, calling it a "major upgrade" over the iPhone 6s.
iPhone 7 achieved the highest color accuracy, peak brightness, and contrast rating in bright light of any smartphone display, the highest contrast ratio of any IPS LCD display, and the lowest screen reflectance of any smartphone display.
3D Touch
3D Touch continues to be an integral part of the display, built into one of the display layers. 3D Touch is an expanded multi-touch feature that allows the iPhone to measure different levels of pressure in addition to taps, swipes, and pinches.
3D Touch is used across iOS 9 and iOS 10 to enable shortcut gestures called a "Peek" and a "Pop" both at the home screen and in iOS apps. A light press enables a Peek, while a deeper press enables a Pop, and there are unique swipe gestures to open up menus and take actions when using Peeks.
Redesigned Home Button
The Home button on the iPhone 7 might look like the iPhone 6s Home button, but it's no longer a physical button. Apple calls it a "solid state" button, and when you press on it, you get haptic feedback from the Taptic Engine to mimic a button press, similar to the trackpad on the newest MacBooks.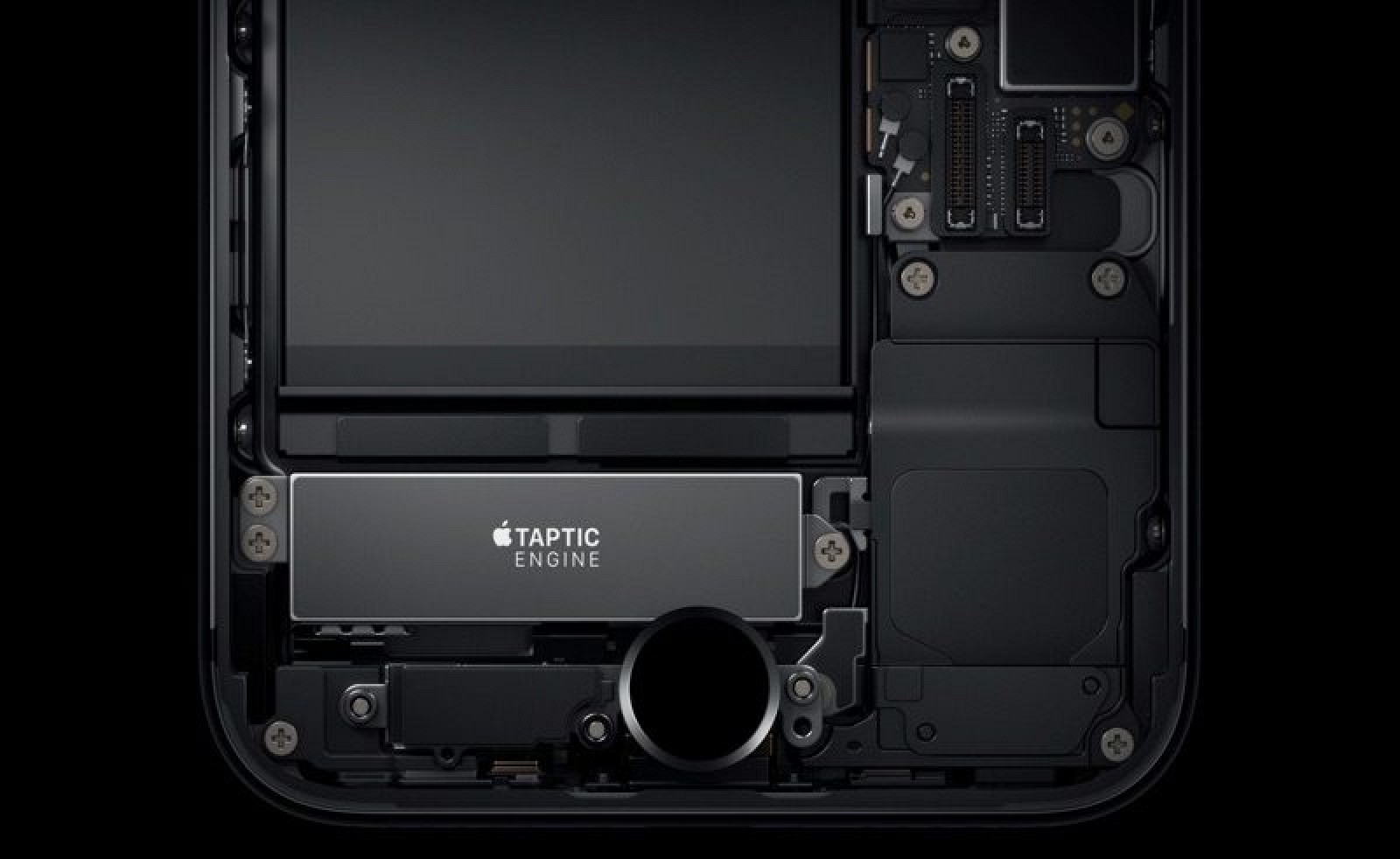 Instead of feeling the sensation of pressing down on an actual button, when you use the Home button on the iPhone 7, you'll feel haptic vibrations in response to let you know that actions like unlocking the iPhone's screen or making a payment with Apple Pay have been successful.
When setting up the iPhone 7, you can choose the level of haptic feedback you want, ranging from light to powerful, with a setting in the middle available. It should be noted that the iPhone 7 Home button is capacitive, requiring skin contact or the right kind of capacitive gloves to press. It otherwise won't register touch, unlike the physical home buttons of earlier devices.
Taptic Engine
The Home button in the iPhone 7 is powered by a redesigned and updated Taptic Engine, a piece of hardware that was first introduced in the iPhone 6s. According to Apple, the Taptic Engine is more responsive and works with a wider range of frequencies.
It is used throughout the iPhone 7 system for everything from the Home button to notification vibrations, and for the first time, it can be programmed by third-party applications for new feelings and experiences that were not previously available.
Touch ID
The Touch ID fingerprint sensor that replaces passwords and offers additional security for things like Apple Pay payments is still located on the Home button, despite the Home button's redesign.
Second-generation Touch ID technology is built into the iPhone 7 and the Touch ID fingerprint sensor is as quick as the one in the iPhone 6s.
A10 Fusion Processor
Apple improves the processor in each iteration of the iPhone, and in the iPhone 7, some impressive features have been included for the best chip performance in an iOS device yet. The A10 Fusion has a four-core CPU (the first in an iOS device) that combines power and efficiency in a unique way. It is "incredibly thin" and was made on TSMC's 16 nm FinFET+ process.
There are two high-performance cores, which are 40 percent faster than the A9 chip in the iPhone 6s and twice as fast as the A8 chip in the iPhone 6. There are also two high-efficiency cores that run at 1/5th of the speed of the high-performance cores to preserve battery when doing tasks that aren't system intensive.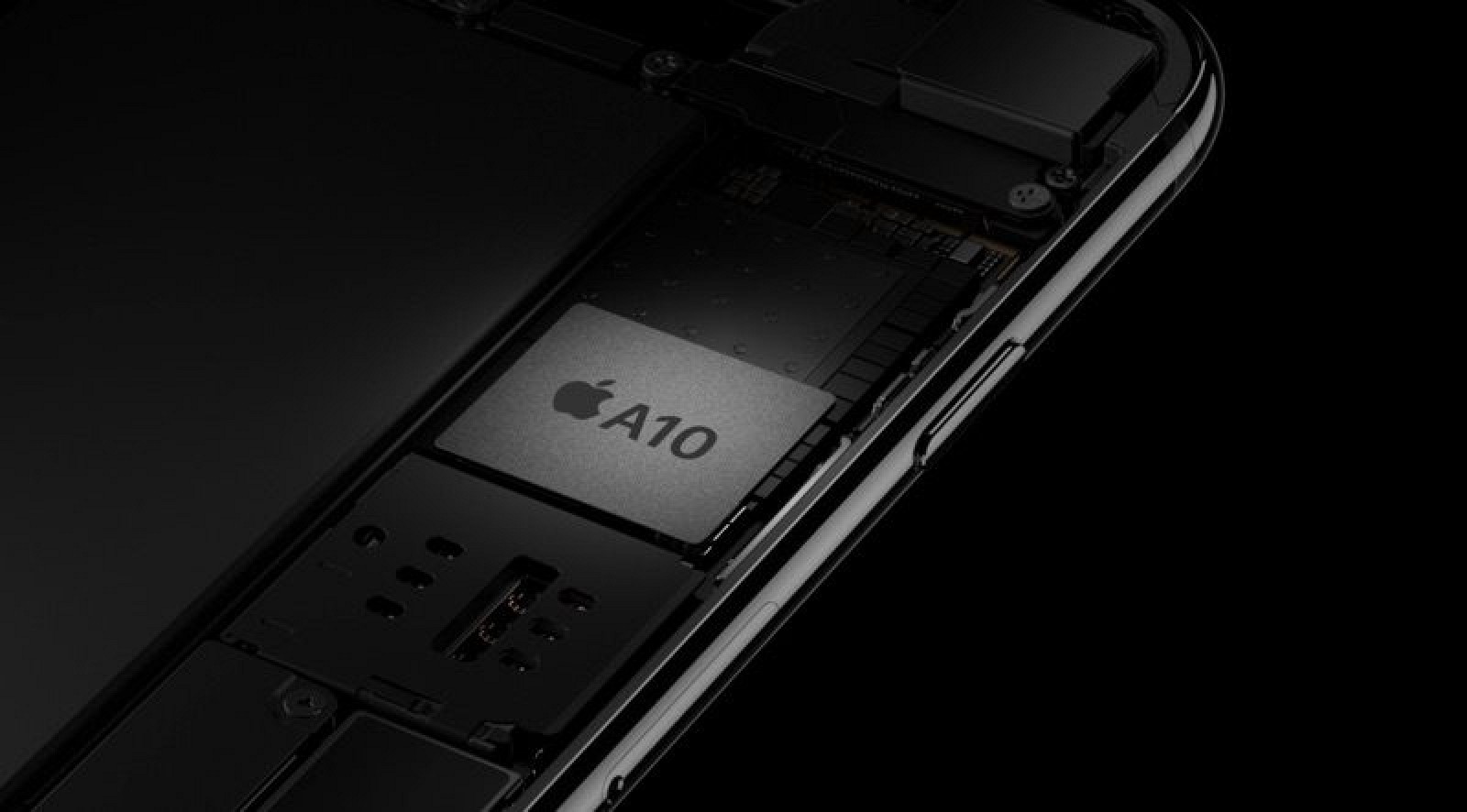 An Apple-designed performance controller switches between the two core systems and makes sure the correct processes are running for maximum performance and maximum battery. When doing something that requires the more powerful CPU, such as gaming, the high-power cores run. When doing something that doesn't require a lot of power, like sending a message or an email, the high-efficiency cores turn on to draw less power and use less battery.
Benchmarking tests have proven that the iPhone 7 and the iPhone 7 Plus are indeed equipped with the fastest mobile processor Apple has produced yet, outperforming the A9X in the 12.9-inch iPad Pro.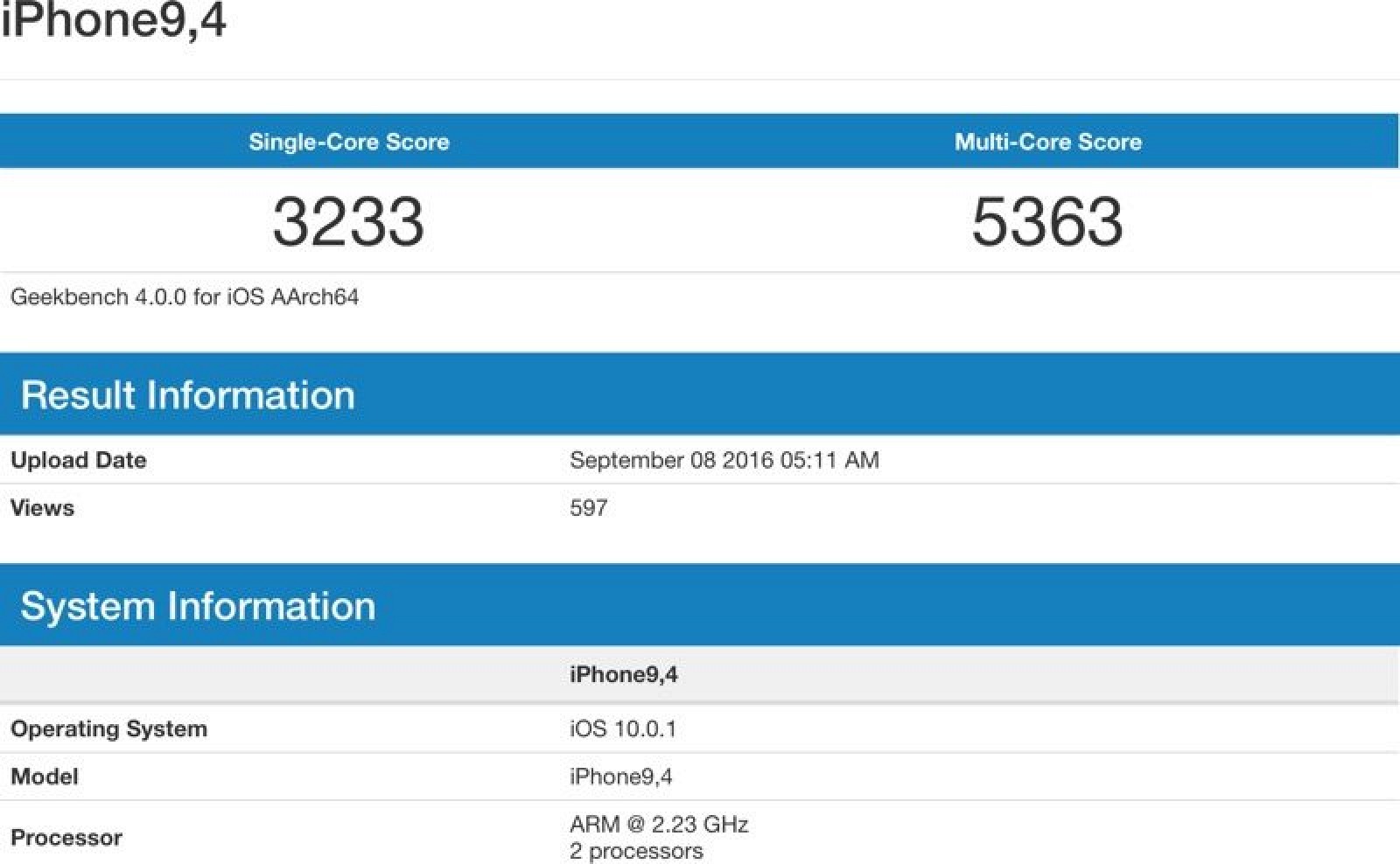 An iPhone 7 Plus benchmark
The iPhone 7 is faster than Samsung devices, even recent ones, and it can even outperform most MacBook Air models.
Along with the four-core CPU, the iPhone 7 features a six-core graphics chip that's 60 percent faster than the A9 and three times faster than the A8. At the same time, it draws one-third less power than the A9 and half as much power as the A8.
There is an embedded M10 motion coprocessor in the A10 Fusion chip that captures motion-based data from the compass, accelerometer, and gyroscope to power Apple's health and fitness capabilities without significant power drain.
For more detail on the A10 Fusion and the improvements it brings, make sure to check out our post covering the processor advancements introduced in the iPhone 7 and the Apple Watch Series 2.
RAM
Due to the increased demands of a dual-camera system and the software necessary to process images, Apple has equipped the iPhone 7 Plus with 3GB RAM.
The iPhone 7, which uses only a single lens camera, continues to have 2GB RAM like the iPhone 6s.
No Headphone Jack
There is no headphone jack in the iPhone 7, so headphones need to connect wirelessly or through the Lightning port. The removal of the headphone jack was done to save space and to make room for new technologies, plus Apple is using its elimination to drive the development of wireless headphone technology.

To ease the transition away from the 3.5mm headphone jack, Apple is including Lightning EarPods and a Lightning to 3.5mm adapter in each iPhone box. Apple is also developing new wireless headphones called AirPods and introducing new wireless Beats models.
AirPods
AirPods, Apple's new wireless earbuds, look a lot like standard EarPods without the wires. Reviews suggest they're similar in shape and size, but the internals are entirely different. There are no wires between the AirPods -- each operates independently. You can wear both at the same time or wear a single one for a phone or FaceTime call.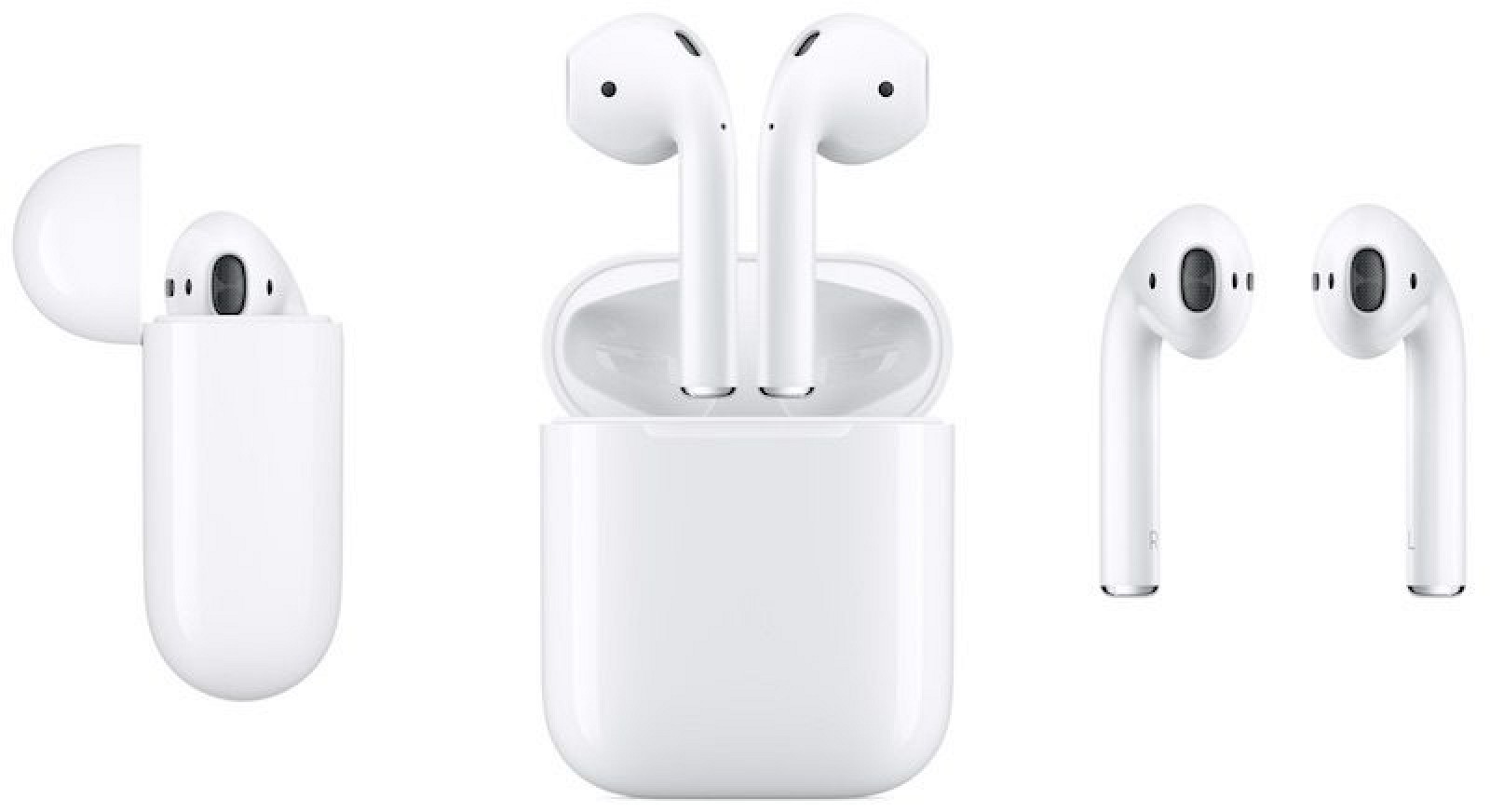 AirPods feature Bluetooth and an Apple-designed W1 chip, the first wireless chip Apple has created for intelligent, high-efficiency playback with a consistent, reliable connection. AirPods have an infrared sensor built in to detect when they're in the ear, and motion accelerometers respond to touch gestures, such as a double tap to activate Siri.
Voice accelerometers recognize when you're talking and then team up with beamforming microphones to reduce external noise, plus Apple says the AirPods have "incredible sound."
Apple's goal for wireless, which it says no one has achieved, is a "wireless future" where all devices intuitively connect. AirPods are the first step towards that goal. The W1, paired with iCloud, connect seamlessly to all Apple devices with a one-step setup procedure and can instantly switch between devices. Apple calls it a "magical experience."
AirPods last for five hours on a single charge and ship with a case that doubles as a battery source, for more than 24 total hours of battery life. AirPods and the case can be charged through a Lightning connector. AirPods will be available for purchase from Apple in October and are priced at $159.
Battery Life
According to Apple, processor improvements and bigger physical batteries have resulted in the longest battery life ever in an iPhone. Those upgrading from an iPhone 6s to an iPhone 7 will see two hours of additional battery life on average while iPhone 7 Plus users upgrading from an iPhone 6s Plus will see at least an hour more battery life. In most cases, users will see much greater increases in battery.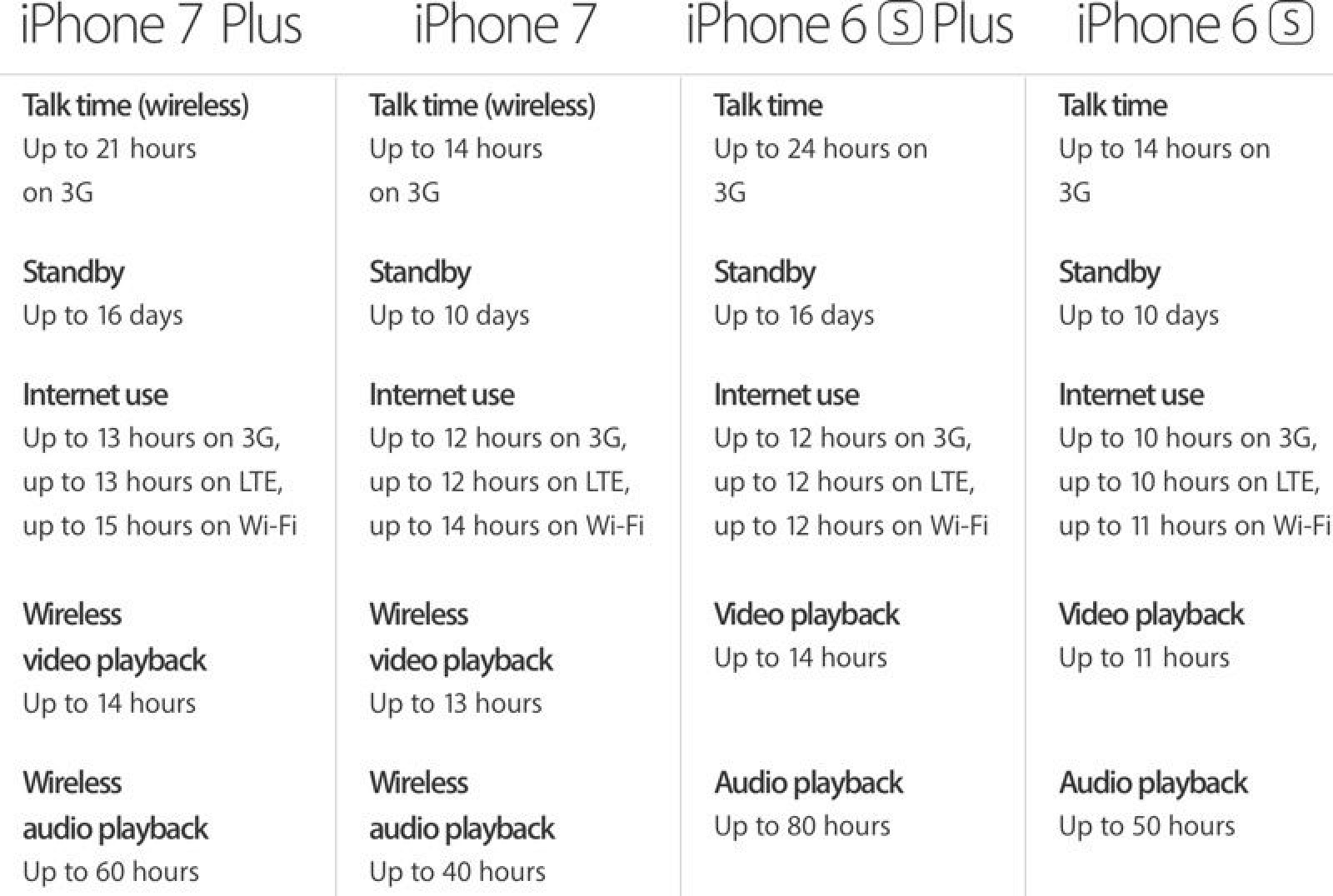 Curiously, when broken down on Apple's site, the iPhone 7 and 7 Plus get longer battery life during internet use and video playback, but shorter battery life for audio playback and talk time. Still, Apple says average battery life during real-world usage has improved.
Based on device teardowns, the iPhone 7 has a 1,960 mAh battery, an improvement over the 1,715 mAh battery in the iPhone 6s. The iPhone 7 Plus has a 2,900 mAh battery, up from 2,750 mAh in the iPhone 6s Plus.
Camera
The iPhone 7 and the iPhone 7 Plus feature a huge jump forward in camera technology, for photographs that are clearer, brighter, and crisper, even in low-light conditions.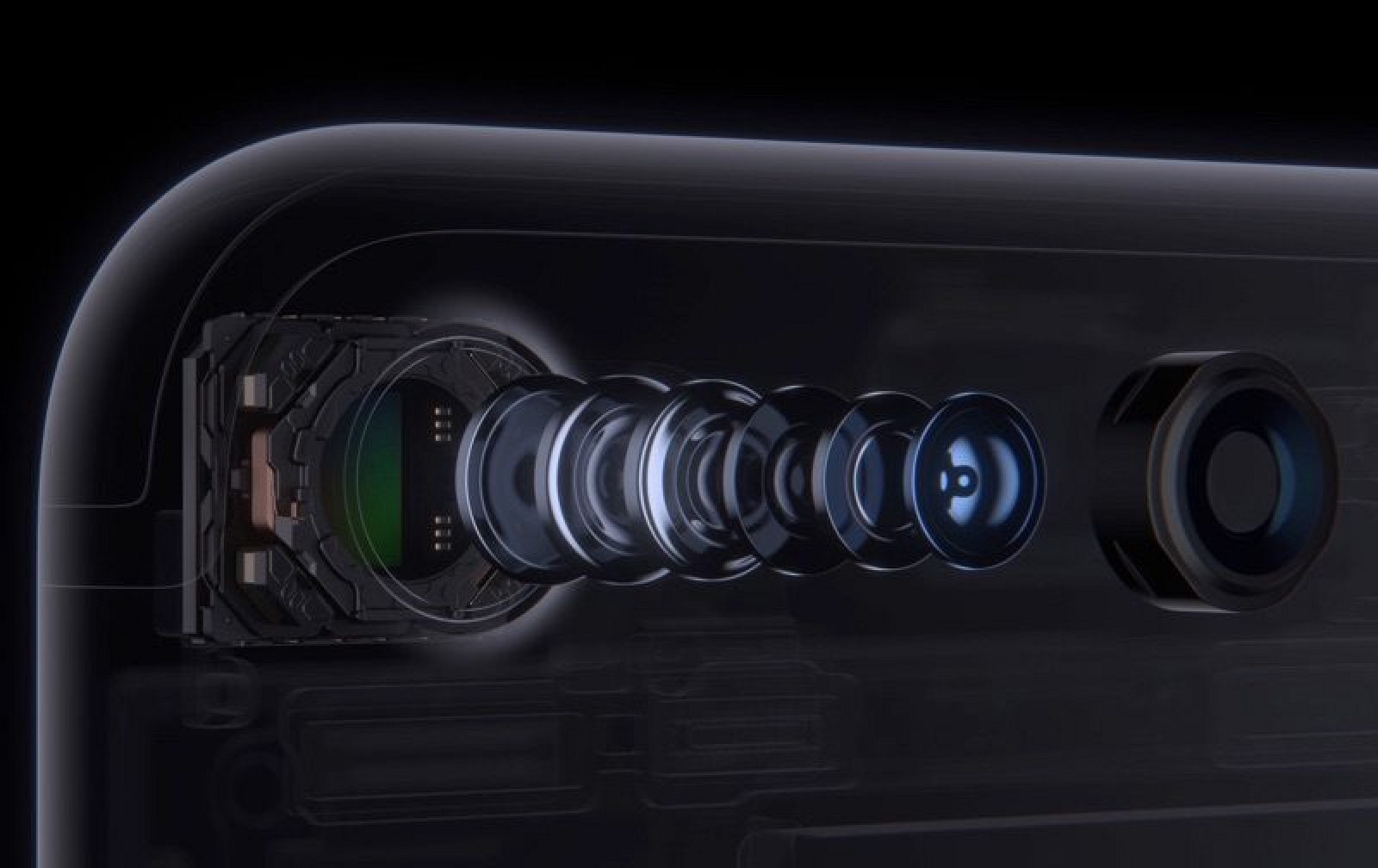 Optical image stabilization, once a feature limited to the 5.5-inch iPhone, is built into the iPhone 7, compensating for small movements and hand shakiness when snapping a photo to allow for longer exposure times (3x longer than iPhone 6s). There's a new 6-element f/1.8 aperture lens that lets 50 percent more light into the sensor while keeping photos sharp at the edges.
The 12-megapixel high-speed sensor is 60 percent faster and 30 percent more efficient, and there's a new image signal processor with twice the throughput for faster camera performance across the board.
The image signal processor, custom designed by Apple, sets exposure, focus, white balance, and uses wide color capture for more true-to-life images. It features fourth-generation tone mapping and noise reduction, performing 100 billion operations in just 25 milliseconds every single time a photo is taken with the iPhone.
Wide color gamut support results in richer colors, especially for greens and some shades of red. Low-light photo capture is improved, and Live Photos feature stabilization, can be edited, and are accessible to third-party developers via new Capture and Edit APIs. In addition to facial recognition, the iPhone 7 also features full body recognition.
A redesigned four-LED rear flash puts out 50 percent more light and reaches 50 percent further, plus it has a flicker sensor that can read the flickering of artificial lighting and can compensate for it in both photo and video.
Video
Video taking capabilities haven't been improved in the iPhone 7. It still includes 4K video recording at 30fps and 1080p video recording at 30 or 60fps. 1080p Slo-mo video support is available at 120fps and 240fps at 720p.
iPhone 7 Plus - Dual Cameras
All of the features built into the iPhone 7 are included in the iPhone 7 Plus, but it has one other unique feature -- a second lens. The first lens in the iPhone 7 Plus is the same wide-angle 28mm lens included in the iPhone 7, but it is installed alongside a second 12-megapixel 56mm telephoto lens with an f/2.8 aperture.
The two lenses create a new zoom feature that allows iPhone 7 Plus users to switch seamlessly between standard 1x zoom and an optical 2x zoom, right within the camera app. Optical zoom is superior to digital zoom because there's no loss of detail, but the 2x optical zoom function also enables better digital zoom for clearer photos up to 10x closer.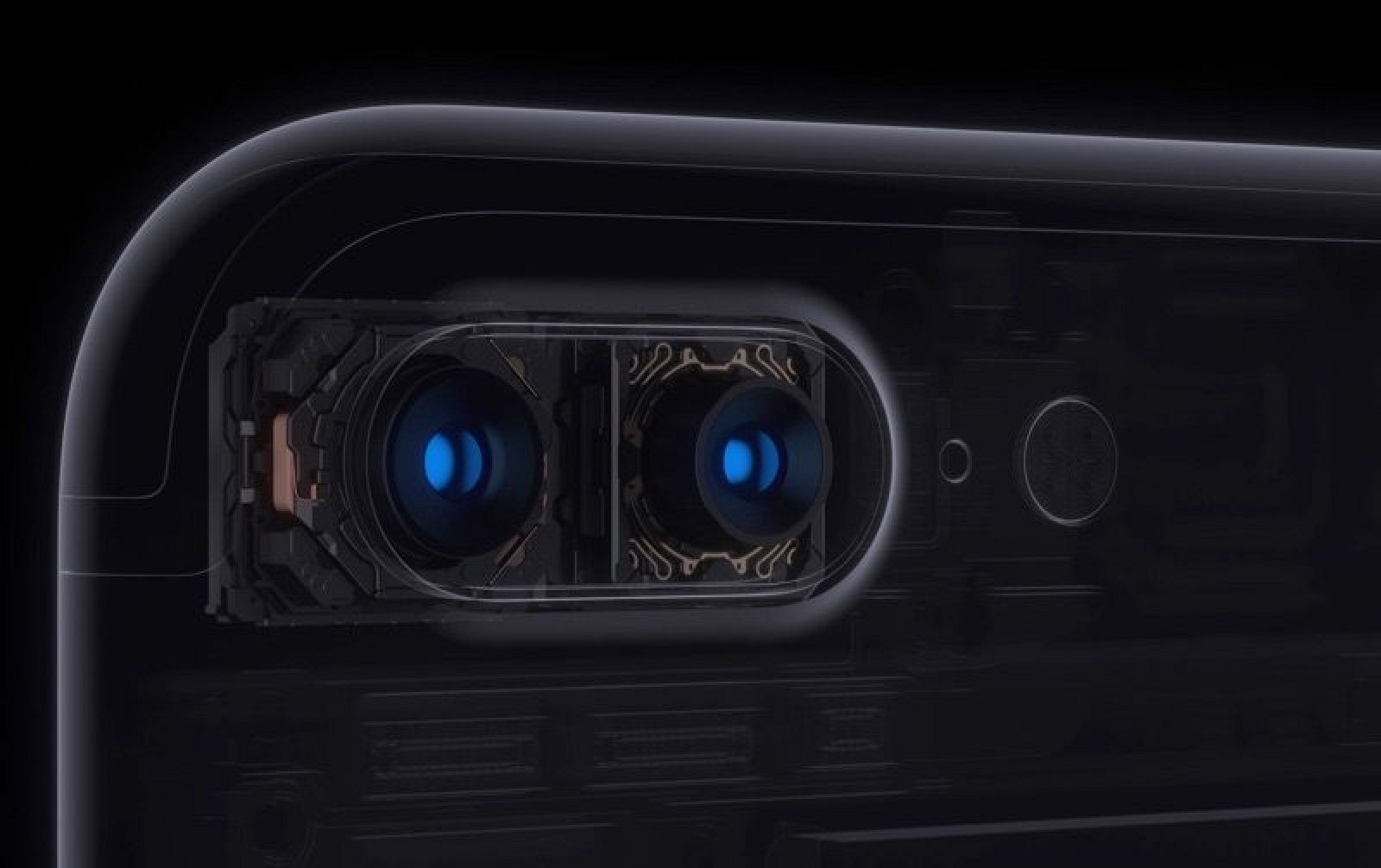 Apple says that because you're starting with a 2x lens when you zoom in with the iPhone 7 Plus, the quality is up to four times better than digital zoom in the iPhone 6s.
In a future update, the two cameras in the iPhone 7 Plus will also be used for a new "Portrait" feature that uses shallow depth of field to make portrait photos "pop," as is possible with a high-end DSLR. To achieve this, Apple's image signal processor scans a scene, using machine learning techniques to recognize people.
It creates a depth map of the image from the two cameras, keeping the people in focus while applying an artful blur to the background. There's even a Live Preview effect that lets you see the background blur before taking the photo, something that's unique to the iPhone. "Portrait" will be a new feature in the camera app alongside other options like "Video" and "Panorama," and it will be introduced later in 2016.
FaceTime Camera
The iPhone 7 and 7 Plus feature a 7-megapixel FaceTime HD camera for better-than-ever selfies and clearer FaceTime calls. There's new sensor technology for sharper images, auto image stabilization to reduce shakiness, and the wide color capture feature of the rear-camera is also available on the FaceTime camera.
Other Features
Speakers
There are two speakers in the iPhone 7, introducing surround sound for the first time. One speaker is at the bottom of the phone and one is at the top, for stereo sound in both portrait and landscape orientations. The two speakers put out twice the volume of the single speaker in the iPhone 6s and have a better overall sound thanks to increased dynamic range.
Bluetooth, NFC, and FeliCa
The iPhone 7 features Bluetooth 4.2 for connecting to Bluetooth devices like the AirPods, and it has an NFC chip for use with Apple Pay.
New in iPhone 7 and 7 Plus models sold in Japan is a FeliCa chip, which allows them to work with the FeliCa payments standard that's been widely adopted in the country. FeliCa will be available when Apple Pay launches in the country in October.
LTE
The iPhone 7 features LTE Advanced for data transfer speeds up to 450Mb/s and support on more LTE bands around the world.
Unlike the iPhone 6s and 6s Plus, which worked on any network, GSM iPhone 7 and 7 Plus models designed for the AT&T and T-Mobile networks are not compatible with the CDMA networks of Verizon and Sprint. This is because Apple has used LTE chips from both Qualcomm and Intel in its devices. GSM devices with Intel chips are not equipped with CDMA functionality, whereas Qualcomm chips work on both GSM and CDMA networks.

That means a T-Mobile or AT&T iPhone cannot later be used on the Verizon or Sprint network. Verizon and Sprint, iPhones, however, support both the GSM and CDMA networks and can later be used with AT&T or T-Mobile.
iPhone models A1660 and A1661 are Verizon and Sprint models compatible with GSM and CDMA networks.
iPhone models A1778 and A1784 are AT&T and T-Mobile models that are only compatible with GSM networks.
Wi-Fi
The iPhone 7 and 7 Plus support 802.11a/b/g/n/ac Wi-Fi with MIMO. The technology is the same as the Wi-Fi technology in the iPhone 6s and 6s Plus, with connection speeds that can reach up to a theoretical maximum of 866Mb/s.
Beyond the iPhone 7
The iPhone 7 has barely hit the market, but we're already hearing rumors about the iPhone that will be released in 2017 to mark the 10th anniversary of the launch of the first iPhone. That device is said to feature some radical design changes, perhaps adopting a glass-backed body and an edge-to-edge OLED display with integrated Touch ID and no home button.
For more details on the 2017 iPhone, which will perhaps be called the "iPhone 8," make sure to check out our full iPhone 8 roundup.